October is the best month of the year simply because I get to celebrate my birthday. This of course means dessert and a few cheat meals throughout the month. I've definitely improved in both healthy eating habits and exercise in spite of my birthday celebrations, especially towards the end of the month. Even a wedding didn't stop me from eating more veggies and less sweet treats. A large part of this improvement is because I finally saw a doctor about my daily exhaustion and found out my iron levels were incredibly low. It's only been around two weeks at this point since I've started taking iron and vitamin C tablets which has made an astounding difference to my motivation and ability to train for longer. Even though my Geek To Gladiator goals focus more on eating well, losing weight and improving my fitness, I realised how important it is to check on your physiological state as well. So here's a friendly PSA to remind you to have regular check-ups with your doctor, even if you normally feel fine it's beneficial just in case there's something lying under the surface.
Since it's my birthday month, I got to indulge in a fair few treats that tasted absolutely divine. I've also really started focusing on eating iron-rich food so I can eventually get rid of my iron supplements and still keep a stable level of iron. This just means I've been eating more red meat instead of chicken, and a lot of leafy greens. For the final two weeks of October, I decided to change my rules for desserts to be a little more stricter and it's been working super well so far. I've restricted my treats intake at home to one serving of whatever I bake myself, or the occasional chocolate which I've had three of in the past two weeks. When I'm out and about, I'm avoiding desserts but for a special occasion I'll split a treat or have a taste of someone else's order. Now that I bake at home, I've found myself having higher expectations for desserts and baked goods so I tend to avoid buying them from places that don't bake them in-house. These rules may seem a bit confusing at first look and may be a bit restrictive for some, but for me this has been my best diet in a long time.
My fitness goals I was working toward in October were a bit of a mixed bag. I thought I'd be able to do a single pull-up, but I'm not quite there yet. I do feel I'll be able to do one by the end of the year especially now that I've incorporated strength training into my week. My goal was two strength training workouts per week and I've succeeded for the most part, although there was one or two weeks where I only managed one session. I'm going to increase my strength training sessions to three a week in November where I split between these workouts; legs & core, chest & back, arms, shoulders & core. I will be on a cruise for 10 days this month but I'll try my best to either do fitness classes or just hit the gym while I'm there. In terms of weights, I'm not looking to beat personal bests and lift as heavy as I can since I'm focusing on functional strength rather than bulking up. What I do instead is high reps and low weight. Still get the burn, and still feel it the next day.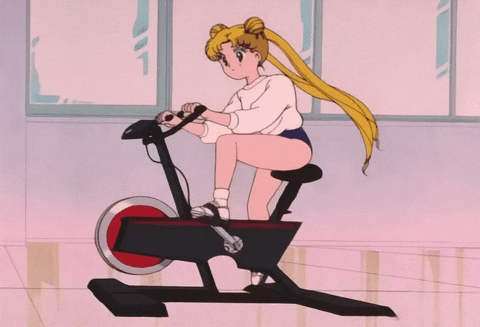 With everything I had going on in October, I'm quite excited to start pushing myself in November now that I've found my groove. There are still different aspects of exercise I want to try out such as pilates and ballroom dancing, but that will be part of next years plan as I neither have the time nor the money right now. Even dancing at home is something I need to do more often, when I come back from my cruise I'll try learning a new choreography every week or fortnight; I'm still debating what will be most doable. Since I'll be gone for a decent chunk of November, I've kept my goals relatively simple:
Learn two new choreographies; Rollercoaster & Gashina
Stretch during every gym session
Three strength training sessions per week
Do a single pull-up
I've never been on a cruise before so I don't know how everything works and whether I'll even have time to go to the gym since there's so many activities on board. Good thing about a cruise is that there'll be lots of walking around the ship and I'm actually quite interested in the fitness classes they hold so it won't be hard to force me to exercise. Of course food will be the hardest part, but I'm just going to enjoy what's on my plate with the only rule being stop when I'm full. Here I come New Zealand!