First of all, I managed to take almost no photos throughout February so I'll be summing up my month with GIFs rather than #foodporn pics. Now that I've gone through my little disclaimer, I can get to the nitty-gritty. February was the first month of my challenge and, as some things go, it was equal parts success and failure. My main focus was on forming habits at the gym and in the kitchen; just something simple to restart a healthier lifestyle. So what parts failed and where did I succeed? Well, let's take a quick look.
Regular gym work-outs were definitely a big part of February and I'm now finding it difficult to take a day-off. Even if I'm tired or I barely have time in the day, I still find myself throwing on some active wear and grabbing a towel. Across the entire month I only missed five work-outs and I'm looking to make March even better. I focused mainly on cardio and usually exercised on the bike, treadmill or elliptical for an hour. These work-outs were enough to work up a sweat, but I never found myself too sore to exercise the next day.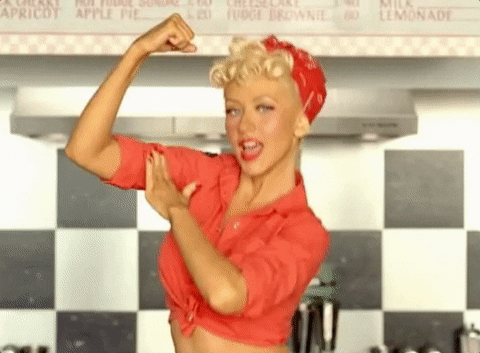 Food was definitely not my forte throughout February and I regularly ate more than I had planned. Chocolate, dessert, sugary drinks; February was still filled with all things sweet. Now, this didn't completely derail me and I haven't given up just yet. Just like any habit, it takes time to form and I won't be surprised if it takes the next couple of months for it to become a permanent lifestyle change. Unlike in the past, I've learnt I can no longer just go cold turkey on the not so healthy food available to me. As long as I get better every month, then it's progress.
One month down and it's already time to look forward to March. Although I posted this extremely late, I'll be working harder to get my posts out in the first ten days of the month. My aims for March are to continue to move forward to cleaner eating and continue with my gym sessions. I'll start incorporating yoga back into my routine as well since I've begun to lose my flexibility after a couple of weeks without practice. I'm aiming for the right splits to begin with and I'll start working on head stands as well. They'll both take longer than a month to master, but I have to start somewhere. Let's see how we go!